Three Mo Tenors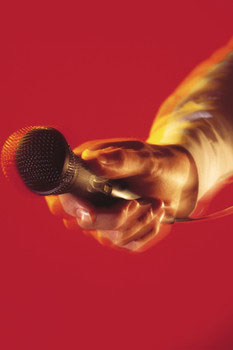 THREE Mo' Tenors--Victor Trent Cook, Thomas Young and Rodrick Dixon--have taken the well-traveled act of tenors Luciano Pavarotti Placido Domingo and Jose Carreras and infused it with a soulful mastery of several genres, including soul, jazz, gospel and spirituals. Backed by the versatile musical director/pianist Joseph Joubert, the supertalented trio has been earning sold-out performances and rave reviews across the country.

According to the Chicago SunTimes:

"As inevitable imitators--the Irish Tenors, the Three Sopranos --started coming along, one longed for a statute of limitations on good ideas gone bad. When the Three Mo' Tenors show wound up its rousing finale at the Cadillac Palace Theatre as part of the `Broadway in Chicago' series, it was clear that there was life in the concept yet. Go see the Three Mo' Tenors if you have the chance. They are three tenors who indeed offer much more."

Add a well-designed set and jaw-dropping choreography, and it's no wonder that the usually well-heeled opera audiences are often found scrambling and shoving one another at the box offices, not unlike teenagers at a rock `n' roll concert. Those who are fortunate enough to catch the perpetually sold-out tour are often left mesmerized and screaming for more. The trio is also a hit with the PBS viewing audiences, and it has a top-selling CD on the charts.

When the group was formed, the original game plan was for Young, Cook and Dixon to get visible enough so that they could cross over and headline productions in the lily-White opera houses.

But then a strange thing happened.

"The game has changed," boasts Marion Caffey, creator, and director of the hit production. "In pursuing Three Mo' Tenors, my idea was to celebrate the Black classically trained tenors by singing classical music and then everything else. Well, when the `everything else' happened, the game changed. Now we've created our own game. Now the game is, who else can sing seven styles and 400 years of music in three different languages in an hour-and-a-half?"

The Three Mo' Tenors, each highly accomplished classical performers in his own right, follow one simple mantra when onstage: "It's better to express than to impress."

"We are either artists who have something to say that brings value and meaning to someone's life or we're not," explains Young. "We cover seven musical genres, and we make a commitment intellectually, spiritually and musically--equally--to all of those genres."

With a whopping 40 years of experience under his belt, Young is the stately member of the group, highly intellectual, and blessed with a blush of whimsy, as evidenced by his neat ponytail.

Onstage, Young, a lyric tenor, has an authoritative voice that commands respect and gets it; offstage, he's an equally authoritative figure who has an undeniable passion for music.

He is one of today's foremost interpreters of tenor roles in contemporary opera, and he has made concert appearances in the major music centers of more than 20 countries. Young has appeared as a soloist with the American Symphony Orchestra at Avery Fisher Hall, the Brooklyn Philharmonic, the St. Louis Symphony, the Los Angeles Chamber Orchestra and the London, Japan, BBC Scotland, Baltimore, Seattle and Denver symphony orchestras.

A widower, Young lives quietly on the outskirts of New York, where he "relaxes" by honing his craft until the wee hours of the morning. And he offers no apologies for devoting his life to art.

"My quest has always been to be an artist. And I've never wanted to make my artistry secondary to anything," he says. "And being an artist is a journey, not a destination. The same thing can be said about life. Life is a journey; it's not an arrival some place. Your consciousness, if you're working on your spiritual and emotional and intellectual development, is always exceeding to a higher level, if you're fortunate."

Brooklyn native Victor Trent Cook, a counter-tenor, is the eccentric, fun-loving member of the trio. He's not afraid to showcase his flashy fashion sense or share his warm, hearty laugh--quite a rarity in the buttoned-down world of classical music!

Cook began singing at the age of 3 in his home church and was later enrolled in the Brooklyn Boys Chorus School of Musical Training, where he traveled throughout the United States and sang for the Pope.

In 1998, he won the $100,000 prize for best male singer on TV's Star Search, and has performed as a soloist at the White House, Avery Fisher Hall, John F. Kennedy Center and with the Boston Symphony under Zubin Mehta and Leonard Bernstein. He earned a Tony Award nomination and an NAACP theater award for his role in the hit musical Smokey Joe's Cafe. He has also appeared in the soap operas All My Children and Ryan's Hope, and various television commercials.

"Let me give this analogy on what we each add to the show," Cook quips. "Let's say you have a delicious slice of cake: Thomas is the flour, the eggs, the sugar, the butter. And then Rodrick adds the cinnamon, and all of the other good, quality ingredients. And I'm--well, I'm the icing on the cake!"

Rodrick Dixon, the lyric tenor, is the family man of the trio. His wife, Alfreda Burke, is a classically trained opera singer (soprano) who has worked in music, television and film. Burke met her husband 10 years ago at the Chicago Symphony Orchestra and says they've been making beautiful music together ever since.

"We're both singers, and a mutual friend had us singing Christmas carols together," she recalls. "For six years we were very good friends." Four years later, they married and have a blended family; Burke's 13-year-old son, Dean Perrin, lives in Chicago with the couple, and Dixon's 13-year-old son, Jared, resides in New York.

Dixon is also a native New Yorker who began his musical career in the church; he later earned his bachelor and master of arts degrees from the Mannes College of Music in New York. He has performed on Broadway in Ragtime, and has appeared in Lyric Opera's II Trovatore and Don Quichotte. As a concert soloist, his engagements have included a gospel/jazz version of Handel's Messiah, Too Hot to Handel, with the Denver Symphony and Concordia Orchestra Dixon's list of awards include the Richard F. Gold Career Grant from the Shoshana Foundation and the Mary Dawson Art Guild "Tenor of the Year" award.

The Three Mo' Tenors are venturing into unchartered territory--three classically trained Black musicians, traveling across the world, treating hoards of fans to various musical genres.

This is their moment. And perhaps one of the most phenomenal aspects of the Three Mo' Tenors' revolutionary production is their ability to use music as the great equalizer, and as the great healer of souls, just as the artists of yesteryear intended.

"I have found that when you're performing, it may be the most insignificant moment that captures a person's heart, that allows them to feel a sense of release," Dixon says. "They have a sense of feeling grounded, and that someone is speaking their language and talking to them specifically. An insignificant moment may be something no more than a turn of the head or something so simple as the beauty of the voice that can put a person at ease and give them solace."

Young agrees. "An artist lives to express something that has meaning and value and beauty, which is one of the reasons that I always say it's important to express, never impress. So if we're able to make a positive impact on someone's life, then that is one definition of a working artist. And that's very gratifying to us."