Black Violin Florida Violin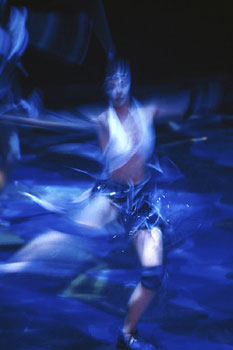 Kevin Marcus "Kev Marcus" Sylvester and Wilner "Wil-B" Baptiste, both 23, aren't your typical violin players.

For the last three years, the violin duo calling themselves Black Violin have been bridging the gap between classical music and hip hop as Florida's funkiest fiddlers.

Both grads of Florida International University, the classically-trained pair showcased their talent on TV's "Showtime at the Apollo," eventually being crowned the 2005 champions.

"We grind to the day," says Wil-B. "No matter how hard you are and you try to be stiff. We will move you in some fashion. You may not clap, but you'll be moved. We try to captivate every single person, from an 80-year-old to a 4-year-old."

Their talent even caught the eye of Alicia Keys. She had the group perform with her at the 2004 Billboard Music Awards.

"Most of the stuff we do is improv," says Kev Marcus. "That makes the best music. Classical has a strong structure. When we broke into the hip-hop thing, that was a relief. It was like I can play whatever I want."

The group got its name from the album Black Violin by Stuff Smith, the preeminent Black violinist of the swing era.

Kev Marcus began playing violin at 9. He studied with the Miami String Quartet. Wil-B, born in the Bahamas, began playing the instrument at 13.

Their two-volume mix CD, Black Violin: The Mixtape, has them remixing popular rap cuts. It also includes a live performance at Wellesley College, the prestigious all-female college of which Sen. Hillary Rodham Clinton is an alum.

"It's like we're bridging the gap," says Wil-B. "I'm starting to notice the responsibility that we have for doing this thing. For once classical and hip hop can have something to talk about."